Shocking encounter with members of the "Rally - Budapest - Bamako"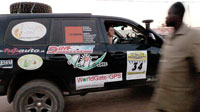 On January 29th, while returning form Nioro du Sahel, the caravan held a stopover in Djenna, a little village, located about 3hours from Bamako. In front of some little restaurants around 20 large jeeps were parked pompously at the side of the road. Cattle sculls, stickers and sponsors'tags that decorated the vehicles, already told the full story: the vehicles were part of the "Budapest – Bamako Rally" – some follow up version of the infamous "Rally Paris-Dakar", that has been transferred to South America due to massive protests against it. The main part of the critique addressed the substantial pollution of the environment that was caused by the rally. Another reason was the fact that, each and every year, there were several fatal accidents caused by pimped up vehicles, which rushed through the villages and towns at full speed and thus run over people.
The film team, which accompanies the caravan, took the chance to interview the Hungarian drivers about the rally, while the teams of the Budapest-Bamako-Rally were eating and behaving in a similar striking way as their cars. The interview, which has been held at one of the tables, was truly shocking. Right at the start, the myth of "adventure" was being reproduced: 400 people in 150 vehicles in "wild/exotic Africa" for over two weeks. Being asked what was "wild" about their tour, the drivers answered: "Everything. Crossing borders, and the Sahara." In a disrespectable voice they continued about the "difficulties" they had to face during their 8.500km journey which began on January 15th in Budapest. They complained about problems at border crossings or that stones had been thrown after them. One driver went into detail as follows: "Close to Dakar, yes, a car run over two children ("killed"). There was a large crowd and a long queue, and everybody turned off the engine. We passed by on the left and the crowd threw stones. This is how they do it here in Africa. We have heard stories like this before. When you run over a cow, or a dog or a chicken, you have to get away as soon as possible, otherwise they will give you a lot of trouble and you don't get out of it anymore. Really this is the truth 100%.
By means of documenting incidents like this, the caravan for freedom of movement condemns racist and neo-colonial enterprises in search of adventure that disrespect other human beings in the uttermost way. The caravan also accuses any connected operations, that function in disguise of humanitarian aid, and the irresponsible behaviour of the people who organize or are part of events like this. Rallies of this type have to be abolished.
Here you can see parts of the interviews on a video-clip: