The different topics of Boats4People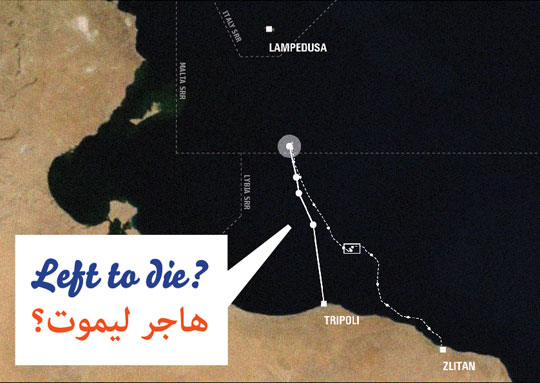 Solidarity in the Mediterranean
On April 2011, 63 migrants died in a boat in the waters off the coast of Libya. Military forces of several states were present in Libyan waters at that time. They received migrants' SOS. But no one assisted them. With support of a coalition of NGOs including Boats4People, se­veral survivors from the boat convened in Paris to file a court case, supplemented by a report of the project Forensic Oceanography, against the French Army for non-assistance to people in distress at sea. WatchTheMed is part of the campaign, which aims to bring an end to the death of migrants at sea and foster solidarity between both sides of the Medi­terranean. Assisting migrants at sea is not a crime, it is a duty.
https://watchthemed.crowdmap.com
1th to 20th July 2012
STOP migrant deaths at sea. For freedom and solidarity in the Mediterranean
www.boats4people.org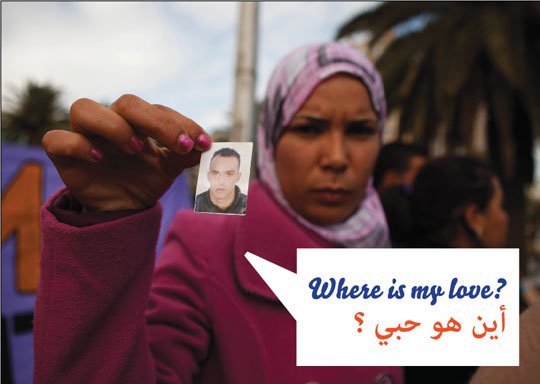 Disapeared?!
Since 2011, at least 270 Tunisian migrants who tried to reach Italy disappeared. A group of Tunisian families of missing relatives, together with several organisations in Tunisia and Italy, have requested that the Public Prosecutor's Office in Rome opens an investigation into their fate. Their action follows the campaign »From one coast to the other: lives that count«, led by The Female Collective Le venticinque undici (The twenty-five eleven), that consists of the migrants relatives who have not received contact to their missing family members for over a year. The families don't want to resign themselves to the idea that their beloved ones just disappeared. Did they ever reach Italy? Have they been pushed back? Some family members are convinced that they have seen their sons on Italian ground on Italian tele­vision. They need answers.
1th to 20th July 2012
STOP migrant deaths at sea. For freedom and solidarity in the Mediterranean
www.boats4people.org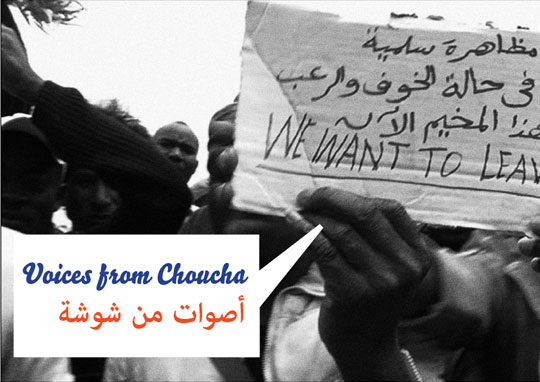 Voices from Choucha
More than 3000 migrants, who fled the war in Libya in 2011 – most of them from Subsahara Africa – are still living under inhuman conditions in the refugee camp Choucha (Tunisia) near the Libyan border. A part of them has been accepted as refugees and they are waiting for resettlement, another part is waiting for the UNHCR decision to be accepted. At least several hundreds are denied any status, and for a lot of newcomers, among them many boat people who were pushed back, no procedures will be opened. A process of selforga­­­­ni­sation and protests has started in the recent months under the name »Voice of Choucha«. Boats4People supports their struggle and demands from EU-governments to open their
borders for the migrants and refugees from Choucha and elsewhere!
http://voiceofchoucha.wordpress.com
1th to 20th July 2012
STOP migrant deaths at sea. For freedom and solidarity in the Mediterranean
www.boats4people.org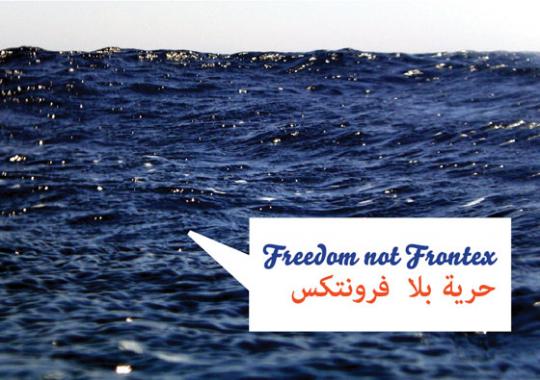 The Boats4People Project
In 2011 the number of migrants' deaths in the mediterranean sea reached a record level, with more than 1800 people losing their lives fleeing Tunisia and Libya only. These deaths are first and foremost the product of the EU's denial of legal entry, forcing migrants and refugees to resort to clandestine and dangerous means of crossing. Frontex, the EU border agency, is coordinating and intensifying the repressive and deathly system of migration-control even beyond EU-borders. B4P resists to this injust policy and demands freedom of movement for everybody. B4P supports the Harragas and all transitmigrants and -refugees in their struggles for political and social rights.
1th to 20th July 2012
STOP migrant deaths at sea. For freedom and solidarity in the Mediterranean
www.boats4people.org