More Information about Choucha
Please note: In the german and french version of this website one can also find videos, articles and information about the situation in Choucha and the struggles of the people having to live in this camp. In addition, we want to refer to the following four websites which also inform about Choucha:
Solidarity with Fighting Refugees in Choucha/Tunisia This webiste has been installed on occasion of the refugee protests in the end of january 2013. It informs mainly in english about the newest developments.
Facebook Choucha-Solidarity. Numerous pictures, videos and short reports about the protests in the end of january 2013 you can also find on the facebook solidarity website (mailnly in english, french and arabic).
September 2013 | Video-Interviews with Choucha-Refugees
May 2012 | Refugees in the tunesian desert (Video: english with german subtitles)
One year after the Choucha Appeal nothing has changed. Still 3.500 refugees are blocked in the desert. The film has been done by boderline-europe and Pro Asyl
24.05.2012 | Video Clip of the situation in the Refugee-Camp Choucha at the Tunisian-Libyan border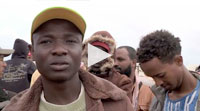 24th of May 2011 | Video-Report from the Refugee-Camp Choucha at the Tunisian-Libyan border